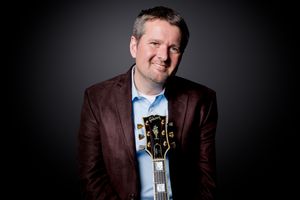 Guitarist Tom Dempsey's reputation in the New York jazz scene for hard swinging sophistication and pure musicality have made him a distinct voice in the New York Jazz Scene. In recent years Tom has performed and/or recorded with a virtual "Who's Who" of world renowned jazz musicians including: Wynton Marsalis, Paquito D'Rivera, Jim Hall, John Abercrombie, John Scofield, Tal Farlow, Buddy Montgomery, George Coleman, Kenny Barron, Roy Haynes, Jack McDuff, Bobby McFerrin, Gerald Wilson, Mel Torme, Richard Wyands, Muhal Richard Abrams, and Dave Brubeck.  He has recorded seven CDs as a leader: Waltz New (Origin Records), Saucy (Planet Arts Records), Beautiful Friendship (Planet Arts Records), What's Going On (City Tone Records), Perspectives (Imaginary Records), Blues In The Slope (Igmod Records), If Only We Knew (Self Release).  Tom has also recorded as a sideman on many recordings.  Since 1992, Tom has been performing as a leader and a sideman at some of the top jazz venues throughout the world including the JVC Jazz Festival, Jazz at Lincoln Center, San Francisco Jazz Festival, The Blue Note, Yoshi's, Smalls and Smoke.  In 2012 Dempsey performed on behalf of the US State Department as a Music Ambassador throughout the country of Tunisia.    
Dempsey has worked extensively with tap dancing virtuoso Savion Glover in Bring in 'da Noise, Bring in 'da Funk as well as in live concerts.  He has made numerous appearances on New York radio and television including performances on The Rosie O'Donnell Show and the HBO series Sex and the City. Tom is an Artist Endorsee for Thomastik-Infeld Strings
           
Along with his active performing career, Tom Dempsey's talent as a composer is receiving noteworthy attention. Because of his distinctive sound and style Dempsey's music has been described as having "fine compositional ability and stylistic accessibility."  His music has been featured on his recordings as well as television and radio programs throughout the world including the HBO hit series Sex and the City.
           
Tom's deep commitment to education has made him a highly sought after educator and clinician.  In recent years he has been teaching at Jazz at Lincoln Center, SUNY New Paltz, Rutgers University, and the New York Jazz Academy. His books Jazz Eras for Guitar, Easy Soloing for Jazz Guitar, Sight-Reading for the Contemporary Guitarist, Classic Jazz Styles for Guitar and Guitar 101 are available through Alfred Music and Workshop Arts.  In 2011 Dempsey became a teaching artist with TrueFire producing three critically acclaimed videos of jazz guitar performance.  He also was the producer and musical consultant for Pat Martino's "The Nature of Guitar". Tom Dempsey is currently a Professor of Music at The City University of New York-LaGuardia Community College.

"I love his playing. Great tunes, terrific solos and careful listening  Tom Dempsey does it all and swings. "    
                                                              Jim Hall
                                                              Guitarist
 
"Tom's great improvisation and melodic interpretations simply sparkle and are played with wonderful groove, sometimes biting, sometimes bluesy, always on the money. "
                                                             Gene Bertoncini
                                                             Guitarist
 
"...inventive, straight ahead and swinging.  (Dempsey) shows how creative the modern mainstream of jazz remains in the 21st century."
                                                            Scott Yanow
                                                            Jazz Journalist/Author
 
"...straight ahead modern jazz with a bluesy soulful tinge...a vivaciousness to the music that keeps drawing attention."
                                                            Dale Smoak
                                                            Cadence Magazine
 
"…a fine guitarist with versatility, chops, and emotive depth."
                                                            David R. Adler
                                                            All Music Guide
 
"The groove is always present and the solos are melodic.  Dempsey's sound is clear and full."
                                                            Eric Elias
                                                            Just Jazz Guitar.
 
"(Dempsey) provides a superb overview of the jazz guitar's varied sounds."
                                                            Andy Ellis
                                                            Guitar Player Magazine